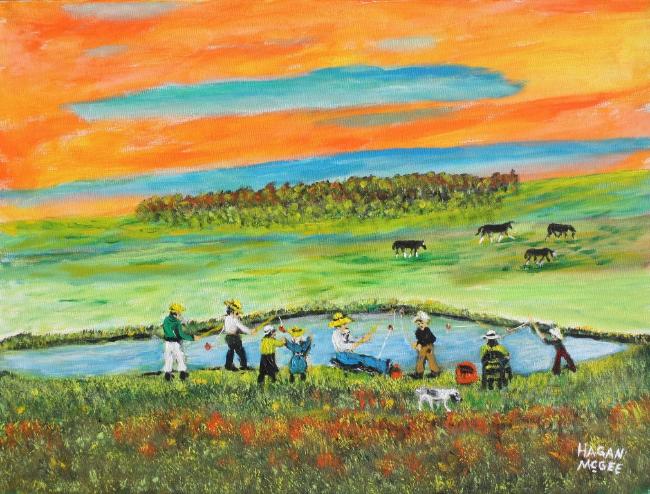 Above: Family Fun, an example of Dad's work, here he paints his family on a fishing trip!
Below: Rohan Knob, from Manton Road, beautiful rugged hills of Kentucky where dad is from, 2016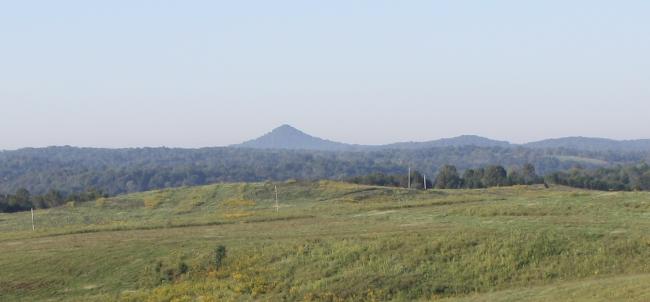 My father, Folk Art painter Hagan McGee, b. 1927, paints acrylic on canvas memory paintings of his youth in the 1930s while growing up in tiny town of Manton KY. His parents and family were forced to move to Louisville during the hard years right before WWII in order for his father to find work.
Hagan would always dream of the magical time of his childhood in the rugged hills of Washington County (he calls one hill the "top of the world") and would take his own children back often for fishing trips and hikes. In 1993, after many years of working to support his own family, Hagan retired and discovered his talent for painting visual stories.
At age 88, Hagan still paints daily in his studio. His art is in many private and corporate collections in the region.
Note: for inquiries on purchasing my fathers work contact me at: j8mcgee@bellsouth.net
Note: A few years back, dad made these cool Folk sculptures. He is really good at making the often kinetic works move in interesting ways.
Below: Bluegrass Band, 2013, by Hagan McGee, 12"x24"x10", painted wood figures
Next; Horse with Jockey, 2013, 10"h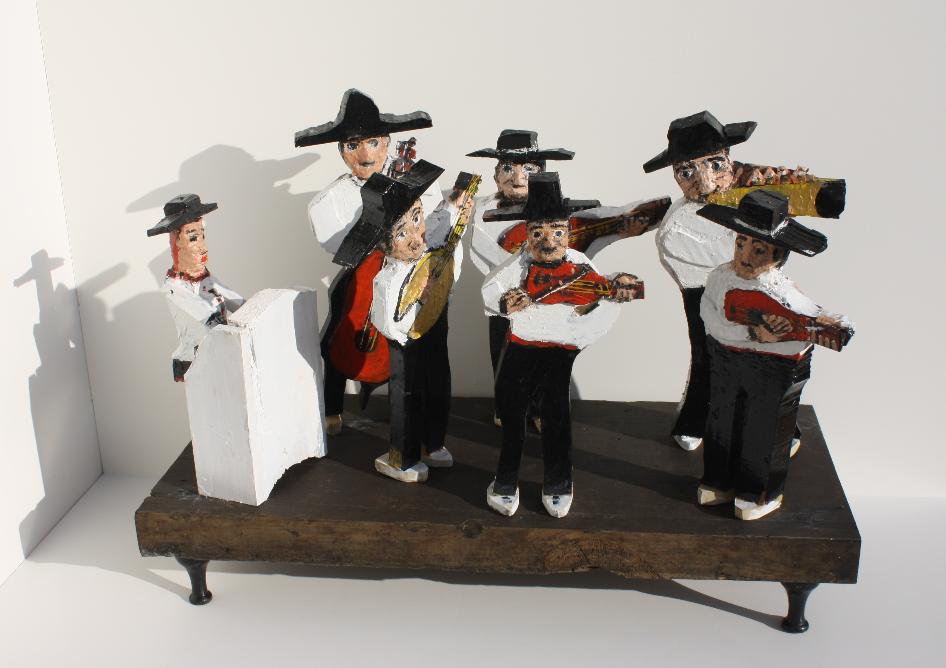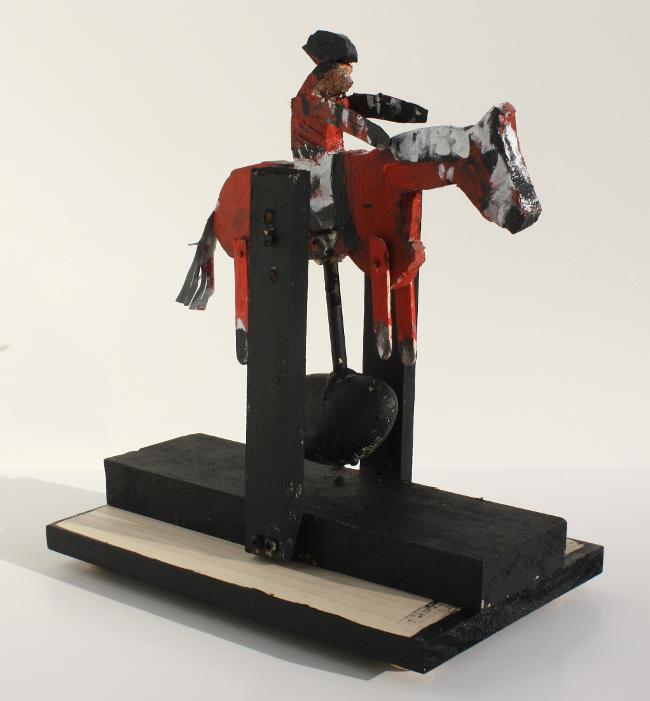 Images below:
Top image: McGee Family Fishing, 20"x30
Middle image: Hagan McGee in the Manton General Store, 2012. He had some paintings down there last year, now removed. Still a nice day trip from Louisville!
Bottom image: My daughter Tasha on the front porch of the historic Manton Store, May, 2012, now reopened as a flea market/general store. The store is divided in small lots where individuals may sell their items. Very nicely done, very rustic, still uses old wood stove to heat. The store now has a restroom, something the old Manton Store never had!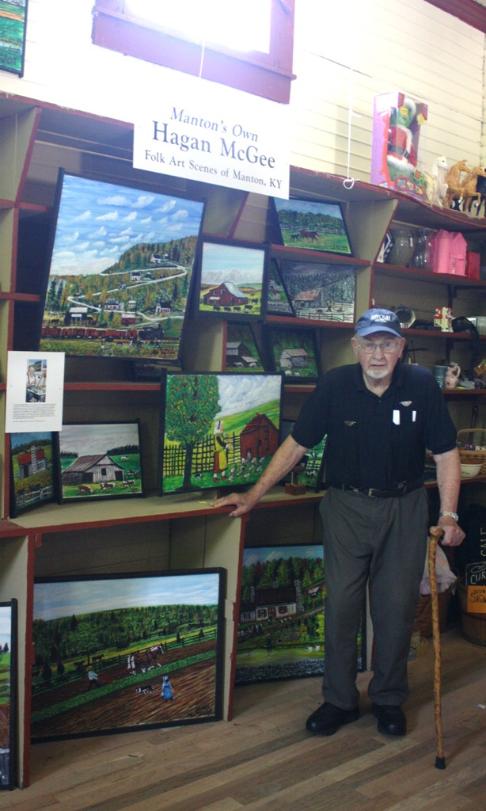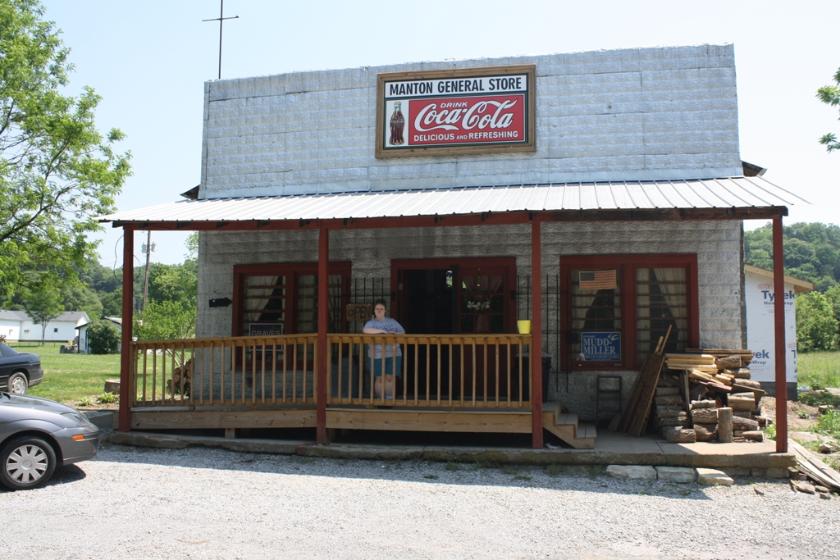 Below: An typical scene my father paints of his youth in Manton, pre-WWII, 30"x40".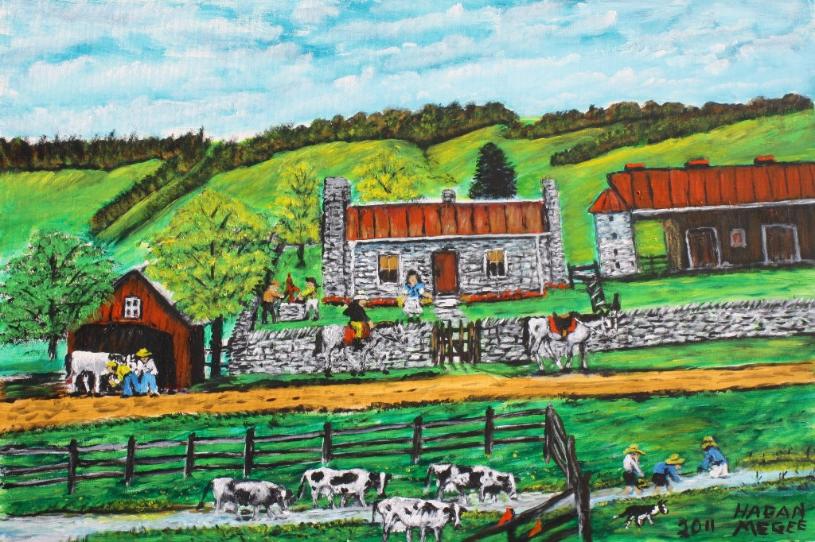 Below: Rock fences like are found throught the hills and valleys around Manton. This photo was taken behind the Manton Store. My father has fond memories of his youth in the rugged hill region. The area was settled by Irish Immigrants in the 1800s, a beautiful small historic Catholic church, Holy Rosary, and a small school house sit near the store. A wonderful day trip from Louisville.