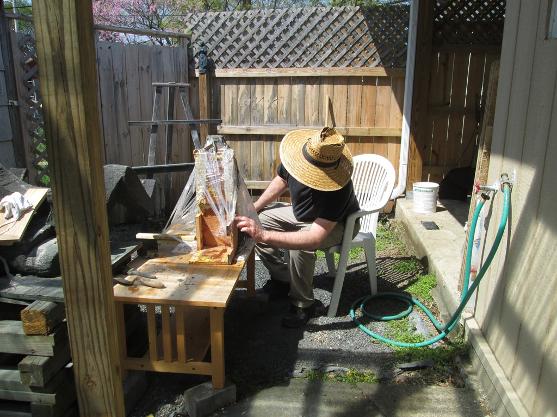 Above, and 3 pics below:
4 new sculptures, 4-2020, casting concrete figures using old rubber mold onto brick bases, all about 2' tall.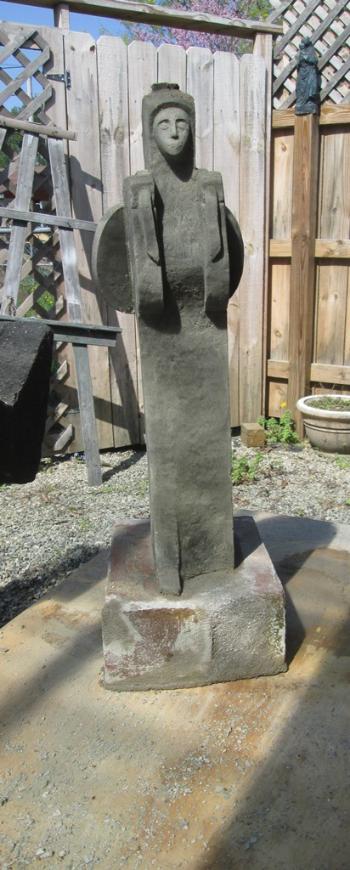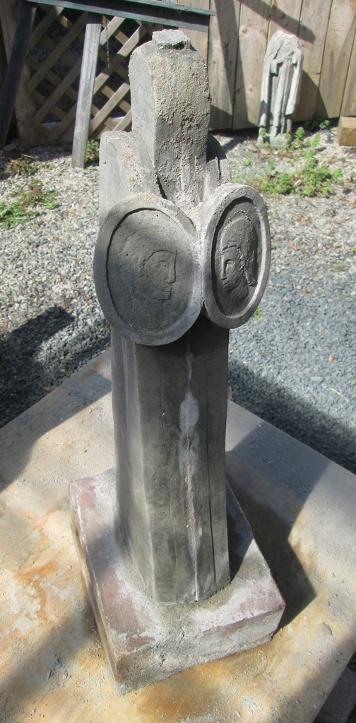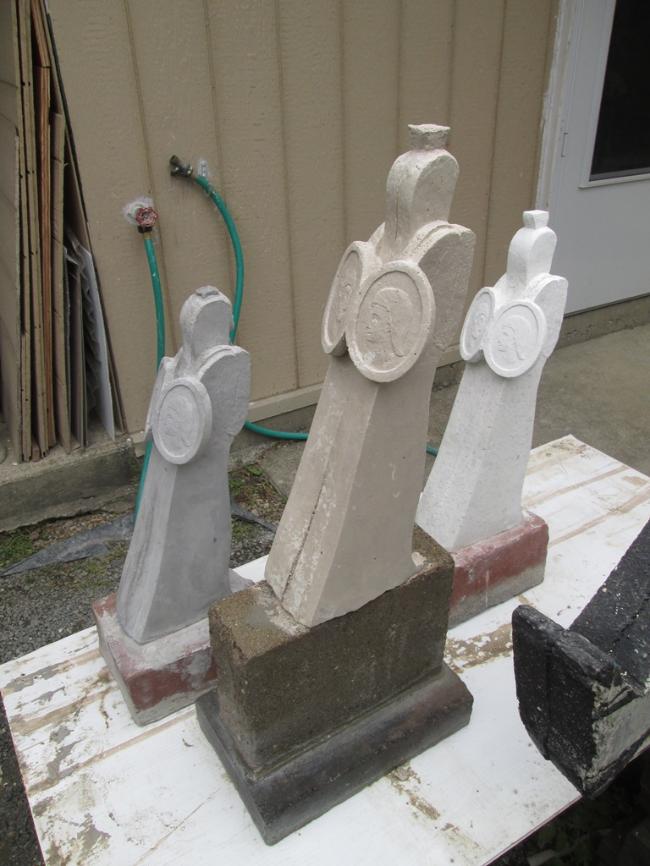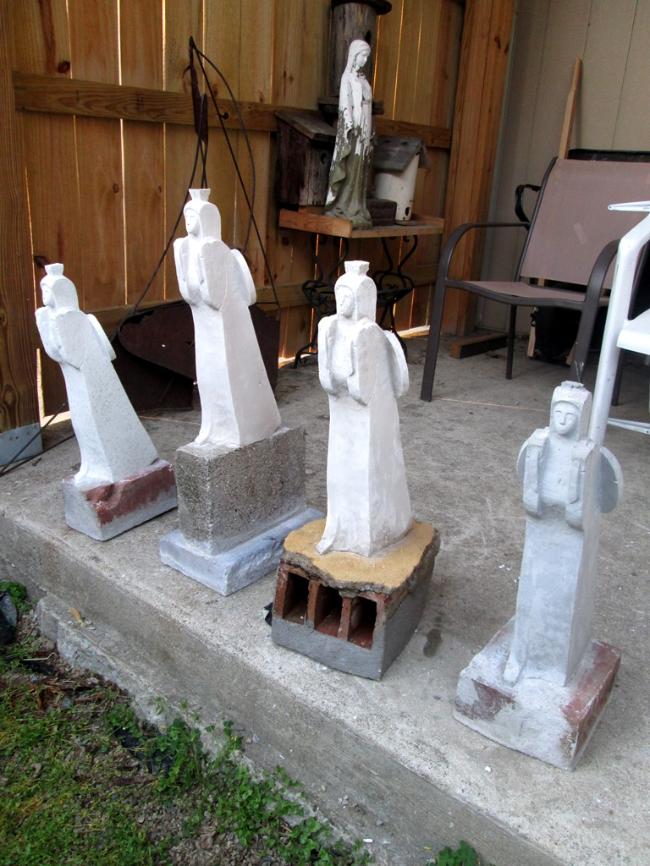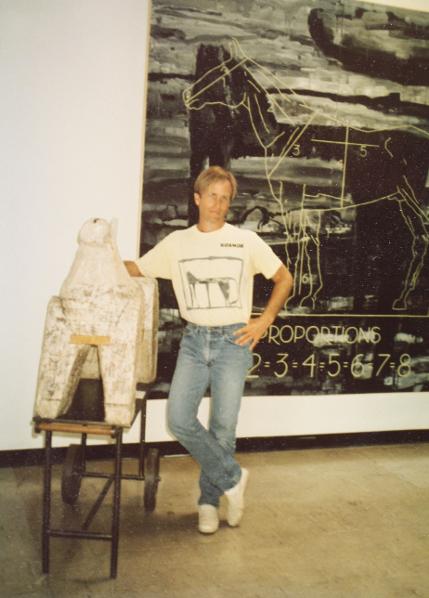 Above: Standing next to my hydrocal horse on steel cart sculpture, part of my BFA exhibit at U of L, 1986. My painting behind me. Both in collection of U of L.
Below: 1988, in my studio with Tasha, she came out every night as I worked, my buddy, such a natural artist!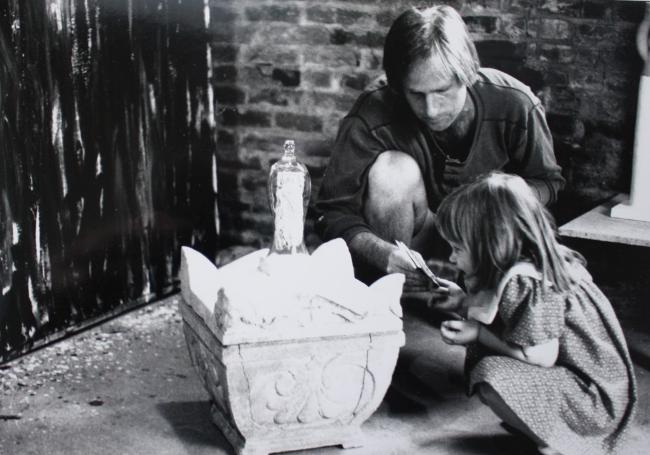 On my Sculpture:
Above: I have been drawn to the making of sculpture since I began art school in 1980 at the Hite Art Institute, University of Louisville (here I am with my daughter in 1986 or so).

But I am now unable to (my injury/disability began 2014) and have to resist the urge and concentrate on painting in the last few years as I have become quite creaky at age 62. :)

Perhaps someday!

But if I never make any more sculpture, in my mind, all of my art is involved in thinking of sculptural concerns. I am just drawing or painting my ideas in 2D now!

And I am quite proud of the sculpture I made while I was young and able! Here are some of my better works.
The cast concrete works on this page were comissioned by Brown-Forman Corporation for their Woodford Reserve Distillery, located in Versailles, KY. The historic distillery, located in the beautiful horse country area near Lexington, offers tours yearly.
Below:
The KY Mother Figure, along with two concrete corn motif wall end caps, were cast in 1996. She protects the small children's cemetery filled with the graves of distillery families who passed away during an epidemic in the late 1800s. 99"x16"x16". The bottom image is a photo montage I took of the little cemetery right after completion of the project in 1996.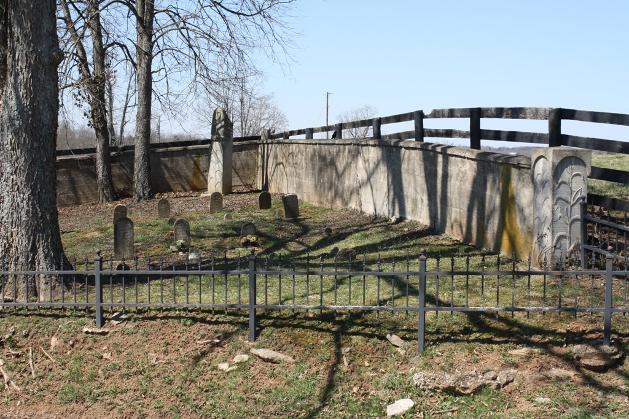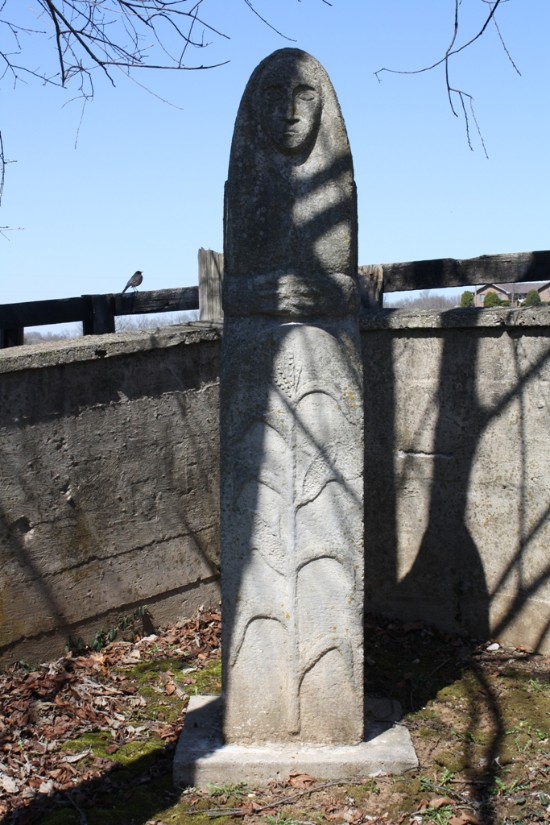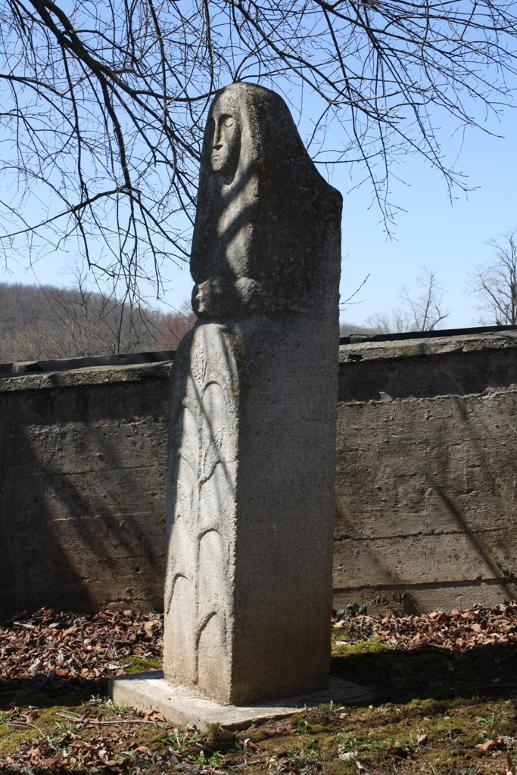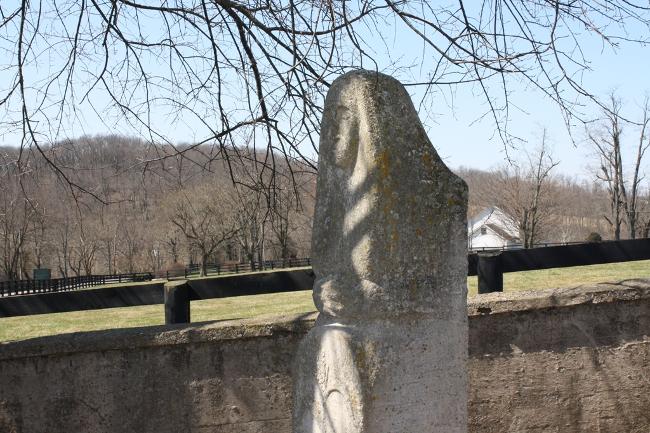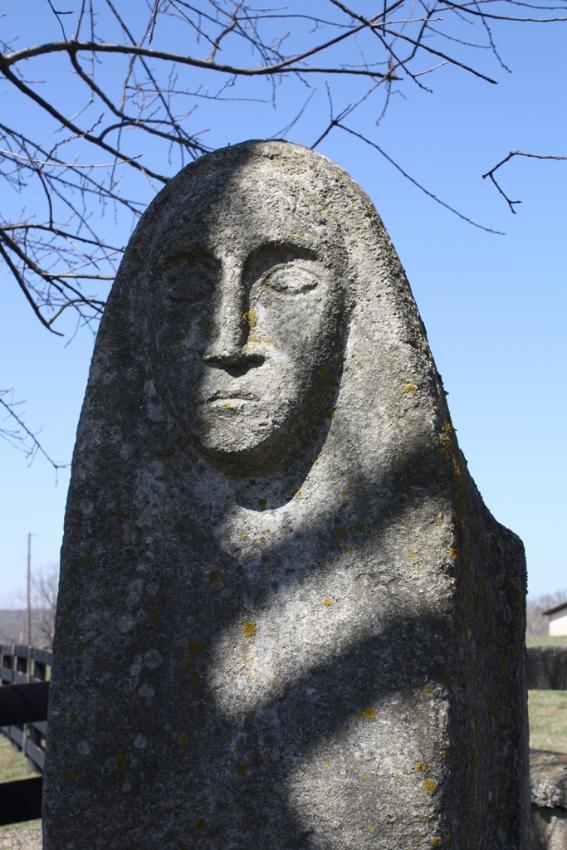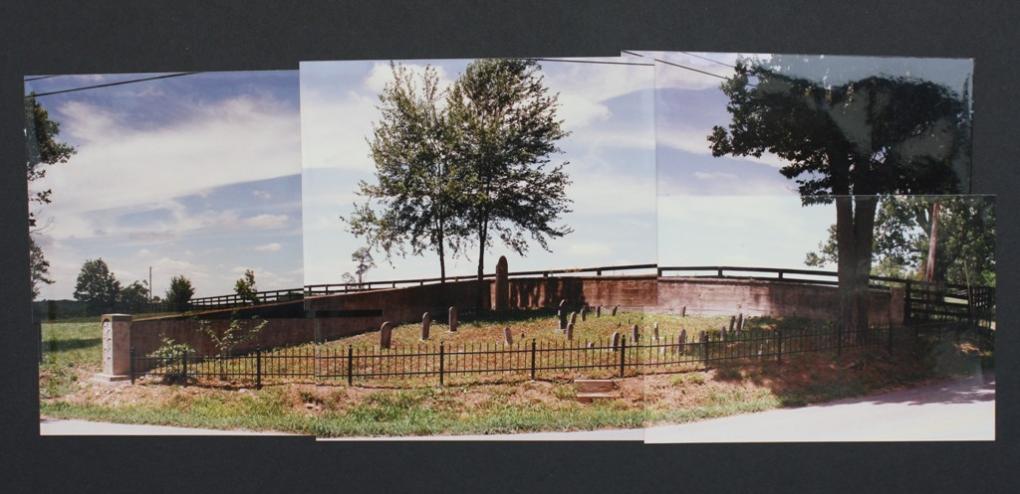 Below:
Top image: Woodford, cast concrete, 2001, Woodford Reserve Distillery, Frankfort,KY, 96"x30"x96". The sculpture sits behind the Visitor's Center at the distillery, just beautiful country down there.
2nd image: Woodford and me, 6-2013
3rd Image: Looking at the rump of the big horse, you can see how massive the work is.
Bottom: Shot of Woodford looking down into the valley where the the historic Woodford Reserve Distillery sits. Nice way to spend a few hours if you have visitors to Louisville. The distillery gives tours of the historic site daily. One hour from Louisville, beautiful drive past horse farms.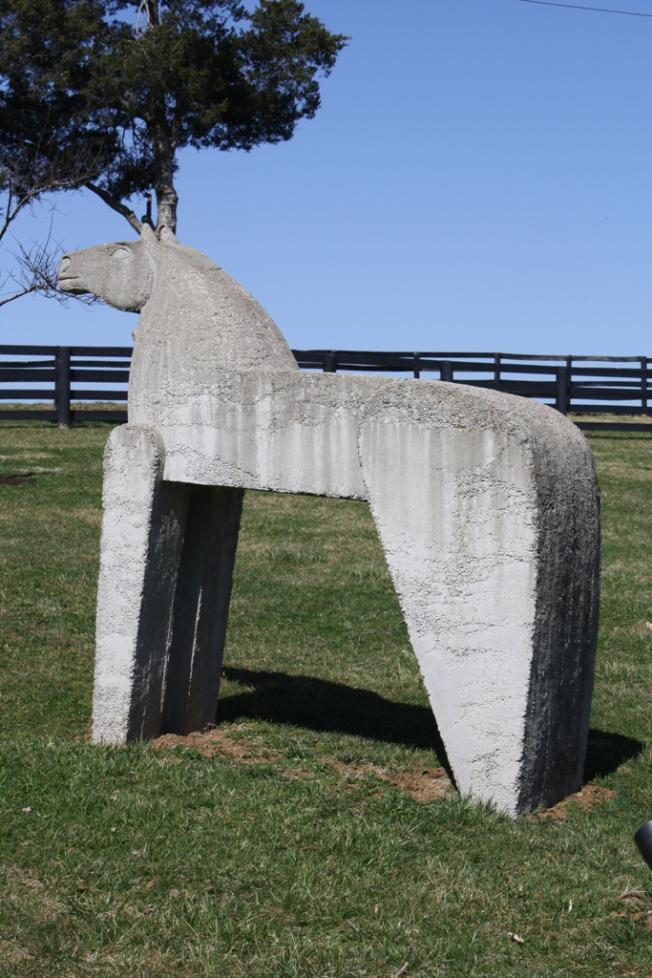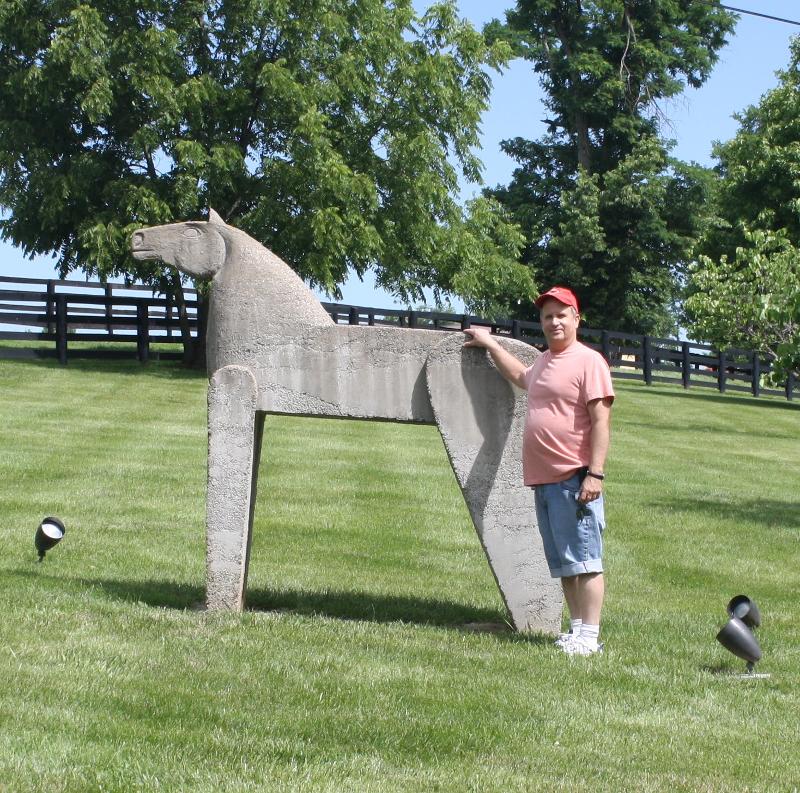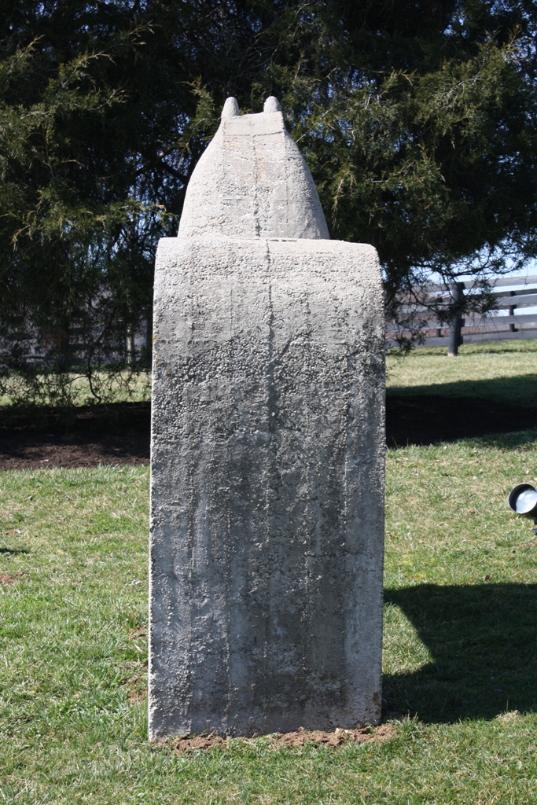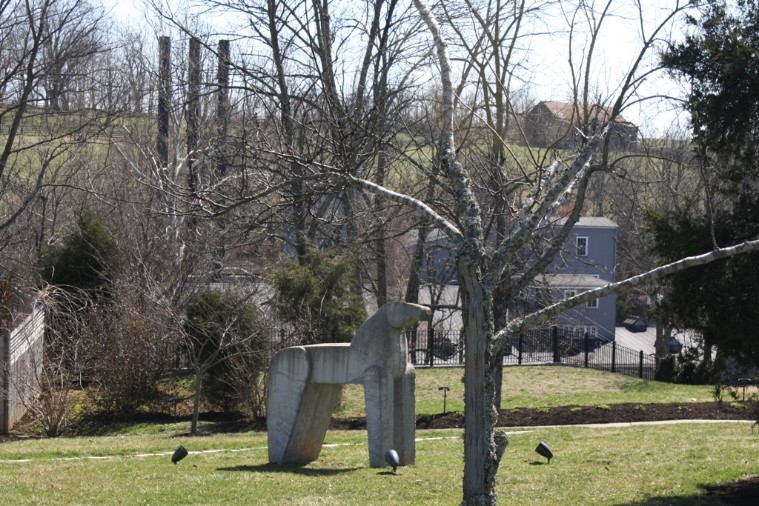 The works below are in the collection of the University of Louisville.
Below: Oedipus and the Sphinx, 1992, cast hydrocal, bought, altered objects. This work was given in sculptor Sam Richards name, my teacher and friend who left us so early, just as his work was taking off. It is on display in the Lutz Hall lobby on campus.
Next: Egyptian Horse, 1986, cast hydrocal, steel, the work is on display in the Bridwell Art Library.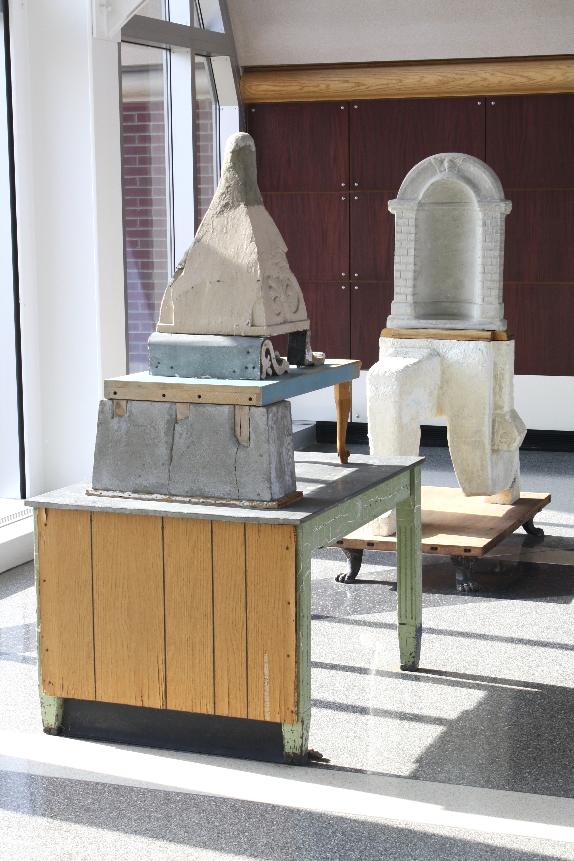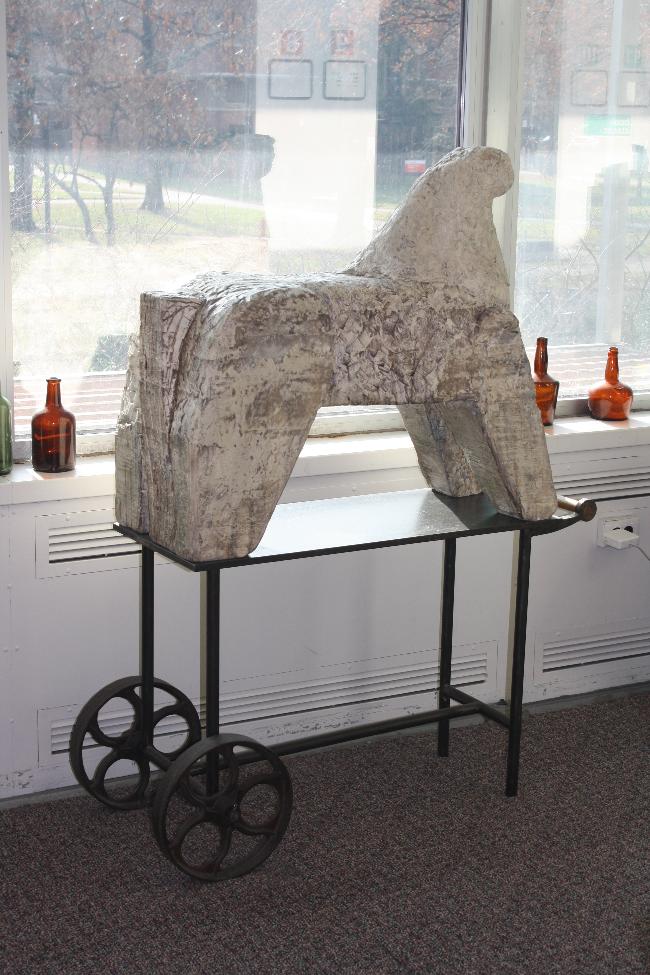 Note: In all of my sculpture, you can see the merging of many past art historical references in my work, including that from both ancient Egyptian, Greek and Meso-American cultures such as the Olmec.
In the series below, I bought/altered concrete yard sculptures, knocked off their heads, then attached them back onto the wrong bodies, creating a sort of mixed up mythology in the process.I showed 30, of them at Spalding University in the 2nd pic below.